Narrative
Good early season ice in Cogne
A weekend in a world class ice climbing venue
I've just spent a weekend in the world class ice climbing venue of Cogne. I normally spend a week to ten days there every January, but this year the opportunity arose to spend some time checking out the conditions, and also the other winter sports potential in this lovely quiet part of the Gran Paradiso national park.
It was no surprise to meet in the Hotel quite a few of my French guiding colleagues in the bar when we arrived ! They'd already been there for Friday morning and had some good ticks under their belts. The conditions for the season were already very good, with lots of the well known classics already feasible. On the Saturday there were 4 of them on Patri, normally the busiest route in the valley. Usually this *** classic is mobbed, but they were the only team there !
We went for a morning of XC skiing up the Valnontey in light snow, but there was still enough visibility to see that routes like Monday Money were well formed. With our team being ice debutants, we headed to Cascade de Lillaz. Despite there being an ice climbing festival in Lilaz, there were very few people around so it was an ideal place for everybody to try their hand at ice climbing.
After some après-escalade in a bar in central Cogne, we headed back to the hotel for a sauna, washed down with laaarge glasses of red.
In brief, Cogne could well be THE place to go this winter. If you haven't been before, check it out. If you have, then think about going early. You can often get the place to yourself with some great climbs in condition.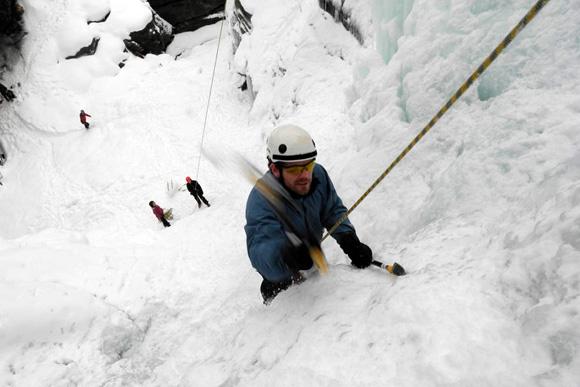 Find a guide
The guides directory allows you to find the coordinates of a guide, a company or an office. You can also find a guide from a given location.